CRVT has been involved in land speed racing since 2008. Over the years we have built multiple record setting bikes for ourselves and our customers; and attended events at many popular land speed racing destinations such as the El Mirage Dry lake beds and the legendary Bonneville Salt Flats.
Here are some memories we'd like to share of those incredible moments. Scroll down to the bottom to learn about the bikes!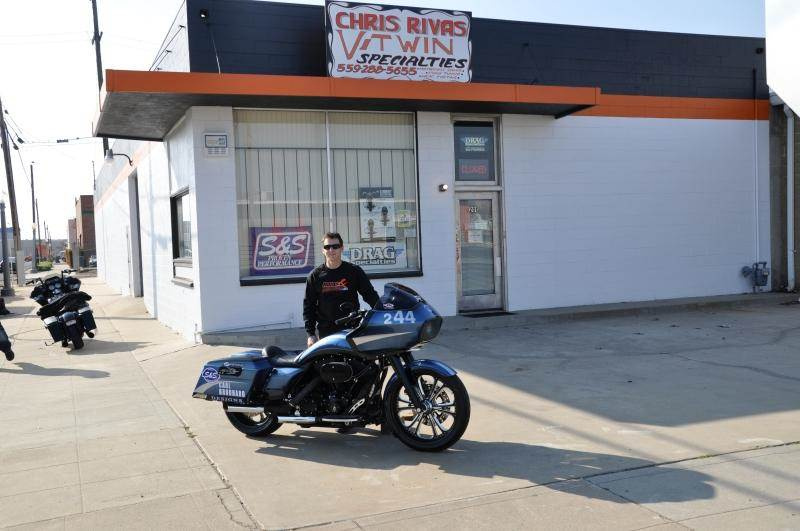 The first bagger Chris turned into a land speed bike. Dubbed "Salty-Glide" this '99 Road Glide chassis holds a Bonneville Salt Flats record of 166.645mph. It is powered by a 1-off Chris Rivas built 135ci motor making over 160 HP in race trim.
Fun Fact: This bike is plated for street-use, has a full stereo with speakers in the bags, and gets 40mpg all day on the highway.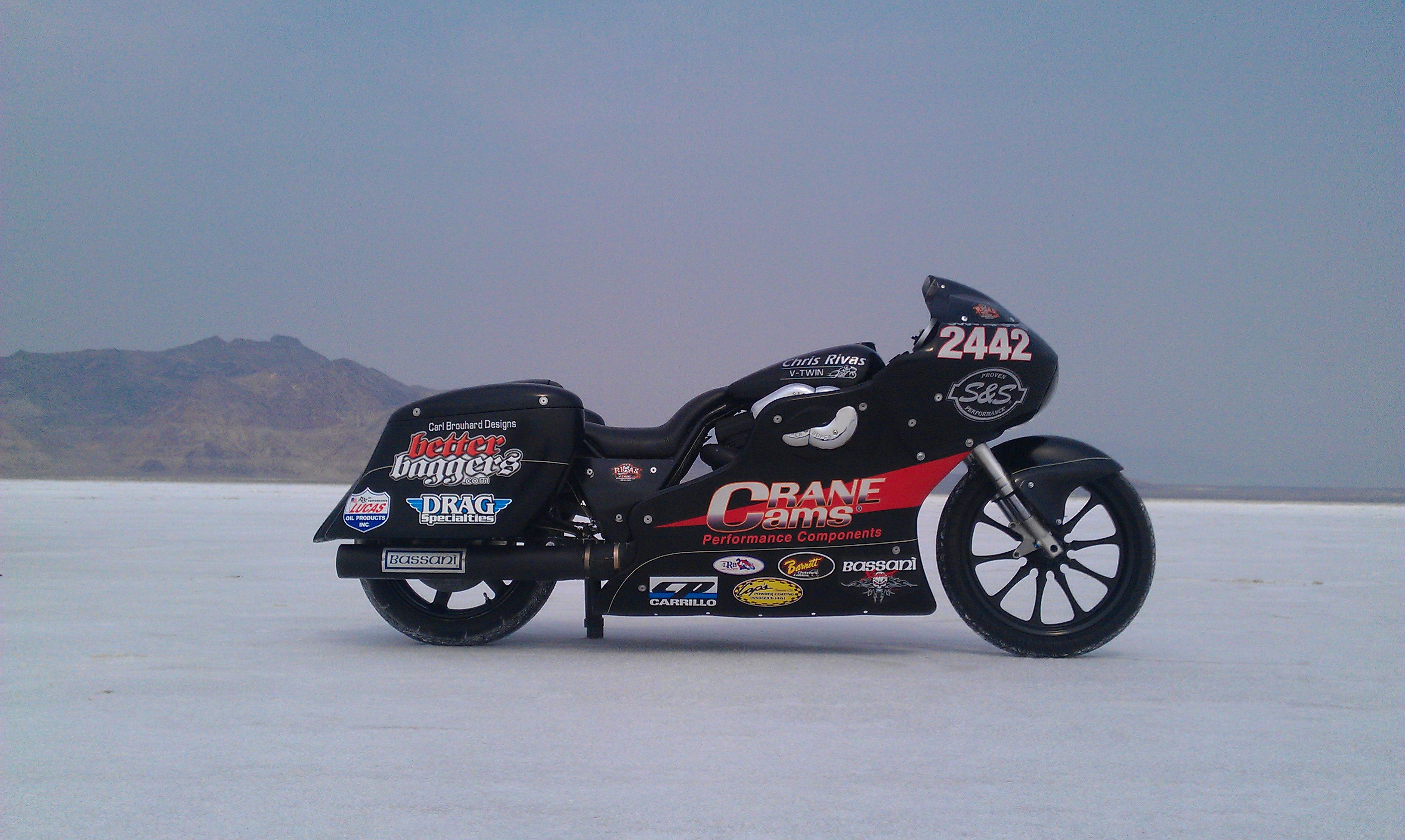 After building his first Bonneville bike and setting a record, Chris felt the proverbial "need for speed" and built his second bagger "Aero-Glide". Brought to life by a massive S&S Cycle 167ci motor with around 250 HP to the rear wheel...and is Push-Button start! The name referencing the custom partial-streamlined fairing of the bagger designed by Carl Brouhard for better aerodynamics. Chris was able to set a record at 201.503mph making it the only bagger in the world to see 200mph+!

Fun Fact: This bike was actually suicide-shifted with a lever made from a lawn chair found at Bonneville in order to replace a faulty electric shifter.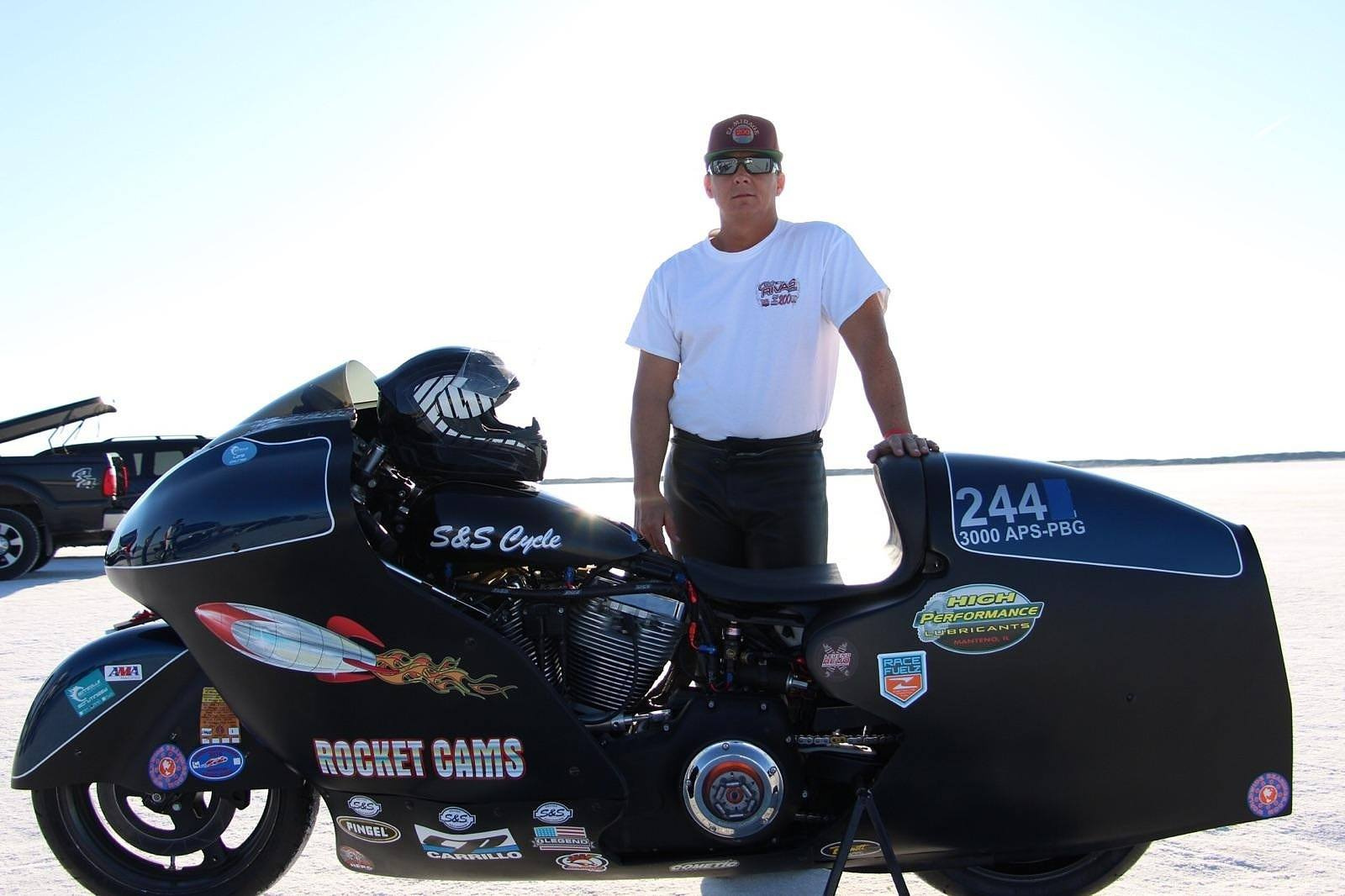 The 3rd bike in the Bonneville lineup is "Turbo-Tramp". It's name paying homage to S&S Cycle's "Tramp" series of Bonneville bikes, this turbo-charged Dyna chassis powered by an S&S T-143 crate engine makes upwards of 280+ HP and holds a record of 244mph at the Bonneville Salt Flats.

Fun Fact: this bike actually experienced a complete loss of power for 8 seconds in the middle of a 20-second/1 mile run and was still able to reach speeds over 200mph.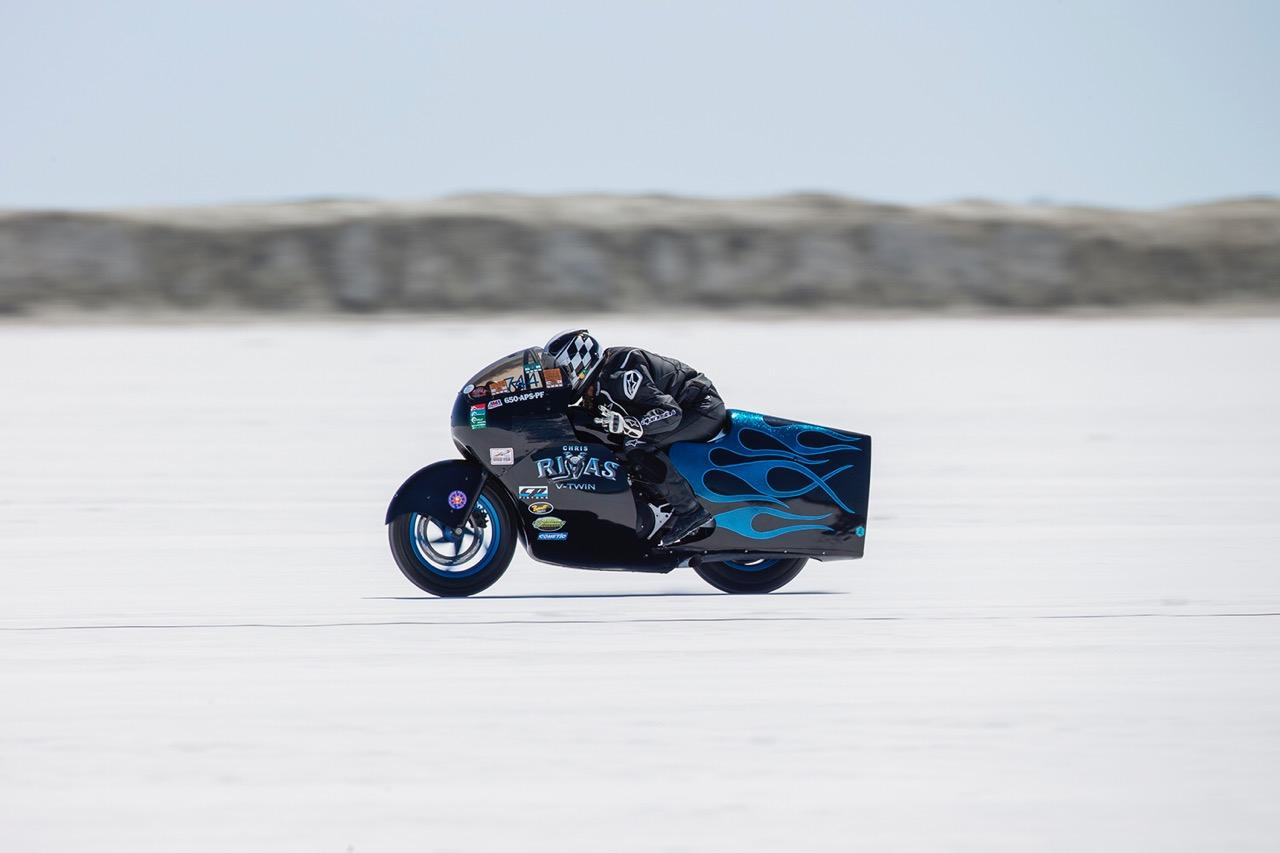 In 2012 Chris' daughter Cayla began land speed racing on a single cylinder 500cc Buell Blast.
Over the years she has set multiple records in different classes at both Bonneville Salt Flats and El Mirage Dry Lake Bed. The Blast has a current record and top speed of 140.629mph.
Fun Fact: The photo above was taken going through the timing flags at 140mph...and yes, she is throwing out a peace sign.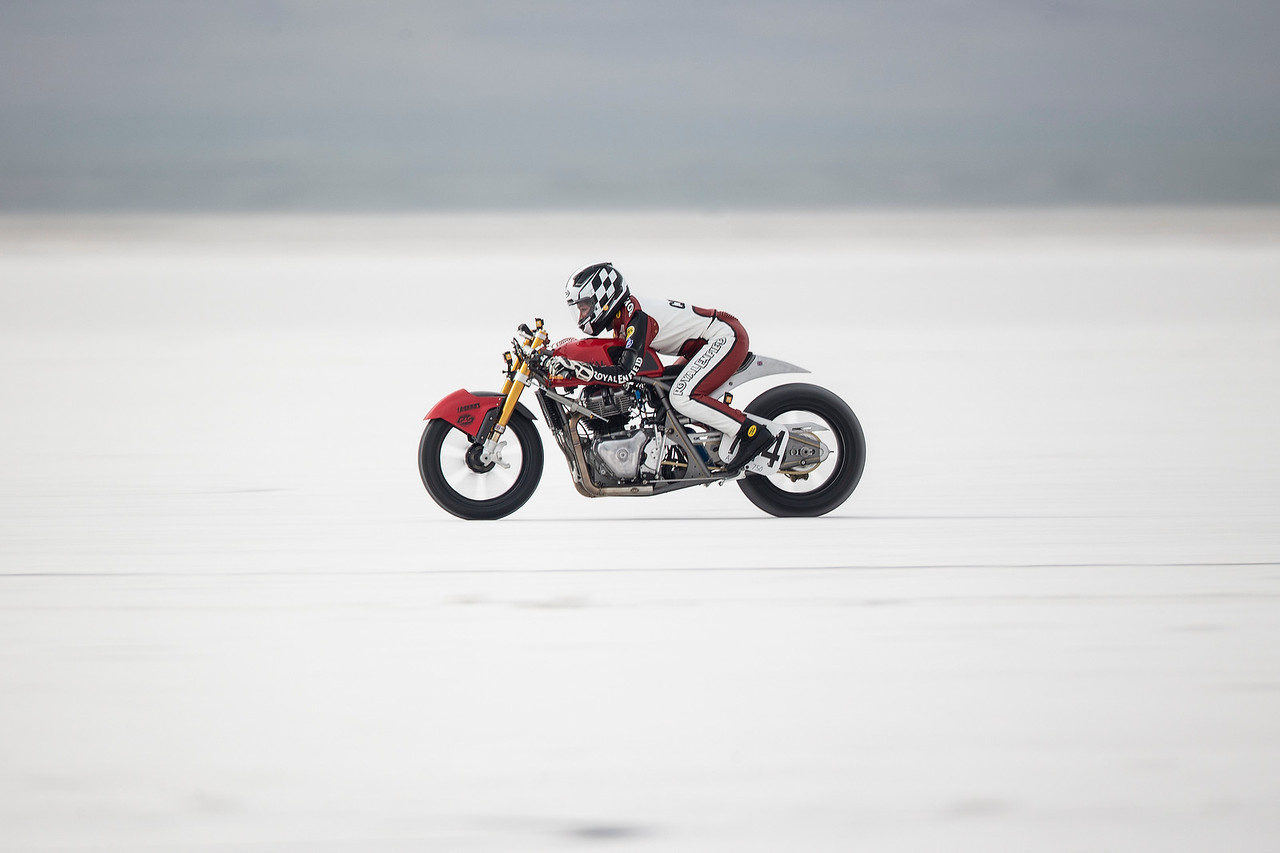 In 2018, Cayla was hired by Royal Enfield to pilot a custom built land speed bike powered by their newly released RE-650 twin engine. With a chasis built by Harris Performance and engine work by S&S Cycle, Cayla crushed the existing record of 100mph with a new record of 157.053mph.

Fun Fact: Cayla went faster than the existing record of 100mph in her class while testing the bike out for the first time in the 'parking' area at Bonneville.
Click Here for the full story.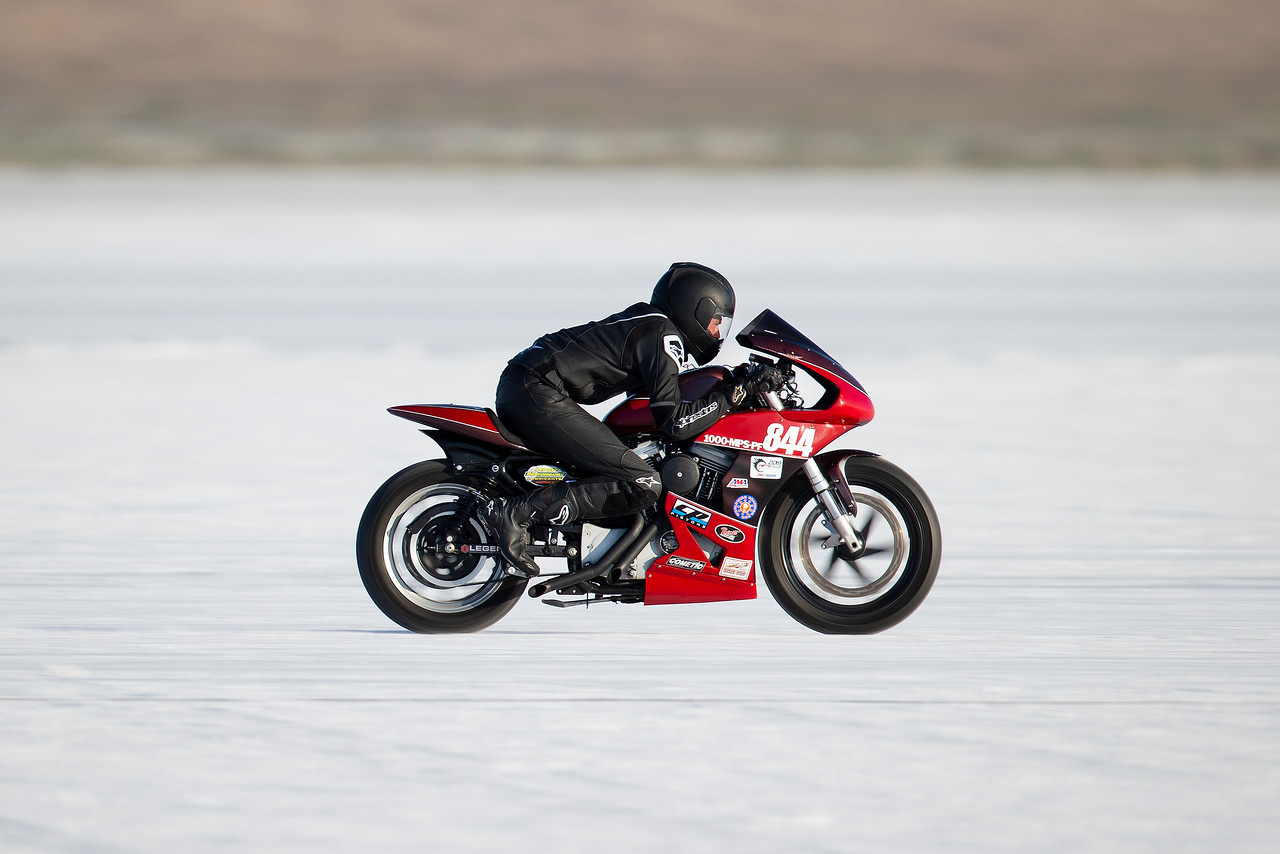 In 2019, Chris built a land speed bike for his new son-in-law Keoki, a Sportster Sport with a reduced 1000cc engine. Being his first time ever land speed racing at the legendary Bonneville Salt Flats, Keoki managed to crush expectations when he breezed through his rookie runs and went right into making full throttle passes. At the end of the week, he managed to reach a top speed of 144mph.
Fun Fact: This bike used to be the shop's drag race trainer and was built into a land speed bike.